Overview
The Achilles tendon is the largest tendon in the body. Tendons are long, tough cords of tissue that connect muscle to bone. The Achilles tendon is located in the back of the foot and connects your heel bone to your calf muscle. It helps you to walk, run and jump. The Achilles tendon is able to endure stress, but sometimes injury can occur to the tendon when overly stressed. Overuse of the Achilles tendon may cause the tendon to swell, become irritated, inflamed and cause pain. This is Achilles tendinitis. It is a common sports injury related to running, but can happen to anyone who puts a lot of stress on their feet (e.g.: basketball players and dancers). If you do not get treatment for Achilles tendinitis, the problem can become chronic and make it difficult for you to walk.
Causes
Unusual use or overuse of the lower leg muscles and Achilles tendon is usually the cause of Achilles tendinitis. Repetitive jumping, kicking, and sprinting can lead to Achilles tendinitis in both recreational and competitive athletes. Runners, dancers, and athletes over age 65 are especially at risk. Sudden increases in training or competition can also inflame your Achilles tendon. For example, adding hills, stair-climbing, or sprinting to your running workout puts extra stress on your Achilles tendon. Improper technique during training can also strain the tendon. Intense running or jumping without stretching and strengthening your lower leg muscles can put you at risk regardless of your age or fitness level. Running on tight, exhausted, or fatigued calf muscles can put added stress on your Achilles tendon, as your tendon may not be ready to quickly start a workout after a period of inactivity. Direct blows or other injuries to the ankle, foot, or lower leg may pull your Achilles tendon too far and stretch the tissue. A hard contraction of the calf muscles, such as can happen when you push for the final sprint in a race, can strain the tendon. People whose feet roll inward, a condition called overpronation, are particularly at risk. Sometimes, shoes with too much heel cushioning put extra strain on the Achilles tendon.
Symptoms
The onset of the symptoms of Achilles tendonitis tend to be gradual, with symptoms usually developing over a period of several days, or even weeks. Symptoms may include, Pain, this may be mild at first and may only be noticeable after exercise. Over time the pain may become constant and severe. Stiffness, this is usually relieved by activity. Sluggishness in the leg. Tenderness, particularly in the morning and most commonly felt just above where the tendon attaches to the heel bone. Swelling.
Diagnosis
Confirming Achilles tendonitis may involve imaging tests. X-rays provide images of the bones of the foot and leg. Magnetic resonance imaging (MRI) is useful for detecting ruptures and degeneration of tissue. Ultrasound shows tendon movement, related damage, and inflammation.
Nonsurgical Treatment
Initial treatment of mild Achilles tendinitis involves rest, stretching exercises, and non-prescriptive medications to relieve pain and reduce inflammation. These medications include nonsteroidal anti-inflammatory drugs (NSAID) such as ibuprofen or naproxen. Relief of pain and swelling may be achieved with the application of ice for15 minutes at a time. Sleeping with the affected foot propped up on a pillow may also relieve swelling. Adequate time must be given to rest and recovery, meaning months or weeks, to prevent re-injury of the Achilles tendon. Most people make a full recovery and are able to return to their regular sports and exercise programs.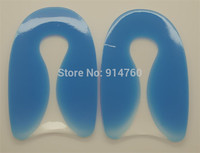 Surgical Treatment
If non-surgical treatment fails to cure the condition then surgery can be considered. This is more likely to be the case if the pain has been present for six months or more. The nature of the surgery depends if you have insertional, or non-insertional disease. In non-insertional tendonosis the damaged tendon is thinned and cleaned. The damage is then repaired. If there is extensive damage one of the tendons which moves your big toe (the flexor hallucis longus) may be used to reinforce the damaged Achilles tendon. In insertional tendonosis there is often rubbing of the tendon by a prominent part of the heel bone. This bone is removed. In removing the bone the attachment of the tendon to the bone may be weakened. In these cases the attachment of the tendon to the bone may need to be reinforced with sutures and bone anchors.
Prevention
Stay in good shape year-round and try to keep your muscles as strong as they can be. Strong, flexible muscles work more efficiently and put less stress on your tendon. Increase the intensity and length of your exercise sessions gradually. This is especially important if you've been inactive for a while or you're new to a sport. Always warm up before you go for a run or play a sport. If your muscles are tight, your Achilles tendons have to work harder to compensate. Stretch it out. Stretch your legs, especially your calves, hamstrings, quadriceps, and thigh muscles - these muscles help stabilize your knee while running. Get shoes that fit properly and are designed for your sport. If you're a jogger, go to a running specialty store and have a trained professional help you select shoes that match your foot type and offer plenty of support. Replace your shoes before they become worn out. Try to run on softer surfaces like grass, dirt trails, or synthetic tracks. Hard surfaces like concrete or asphalt can put extra pressure on the joints. Also avoid running up or down hills as much as possible. Vary your exercise routine. Work different muscle groups to keep yourself in good overall shape and keep individual muscles from getting overused. If you notice any symptoms of Achilles tendonitis, stop running or doing activities that put stress on your feet. Wait until all the pain is gone or you have been cleared to start participating again by a doctor.